Mercenaries,
It has come to HQ's attention that some of you were slacking in close-quarters combat. With that in mind, I have been charged with kicking off and supervising your training in melee fighting! After our previous long-range assignment, let's see how well you fare in a more... personal space. Grab the mission details below and get your butts over the training grounds!
We are excited to announce the latest Ironsight Content Update: Assassin's Arsenal! It's a seasonal patch full of horror, pumpkins, and challenges!
Disclaimer: If you have issues patching the content update, please uninstall and reinstall the game from our website. If reinstalling didn't work please contact our Customer Support.
If you want to share your feedback, please post in the forum here.
Should you find any bug, please report it in this form.
If you have any other issue, please contact our support team here.
Operation: Cut-throat
A new event arrived, and it's all about the scariest time of the year, Halloween! Receive some spooky and scary rewards for a limited time only.
This event starts after the patch maintenance and will last until November 8 after the maintenance.
The rewards will be the following:
Achievement: Cut-throat I – Use Firefly 5 times
Black Mamba M39 EMR (1 Day)
Achievement: Cut-throat II – Use Firefly 10 times
Pumpkin Head (7 Days)
Achievement: Cut-throat III – Use Firefly 20 times
Ember Pumpkin Head (7 Days)
Achievement: Cut-throat IV – Use Firefly 30 times
Mount Ticket
Achievement: Cut-throat V – Use Firefly 50 times
Operation Cut-throat Pack (Crazy Halloween Title & Jack-O'-Lantern Emblem)
New Special Mode: Knife Mode
The "Special Mode" category is a game mode section running unique and time-limited modes during the Open Beta. Here goes our second special mode about... Knives!
Melee
6V6 Knife Match
Eliminate the enemy team using a Knife as primary weapon
Throwable: Throwing Knife and Smoke Grenade
No respawns during a round
Stalker, Spy Drone and UAV Recon are available
Restricted to the following maps: Titan, Dam, Airport, Cruise, Island, Cloud 9 and Mart
No matter which loadout is equipped, the character and the melee weapon will be the ones from the Loadout 1
Skills are disabled in this mode
New Emote
Horse Ride - "Let's roll!"

Epic: Purple (weapons have a unique reload animation)
Rare: Pink (weapons have a unique reload animation)
Special: Orange
Advanced:

Blue

Uncommon:

Green

Common: Black

Assault Rifles
Black Mamba M39 EMR

Pixel MSBS 556B

"Red" Skin for all Assault Rifles
Submachine Guns
"Red" Skin for all Submachine Guns
Light Machine Guns
Chrome Ultimax 100

"Red" Skin for all Light Machine Guns
Sniper Rifles
"Red" Skin for all Sniper Rifles
Secondary
Zigzag EMP MSGL
Cartoon EMP MSGL

Gold EMP MSGL

Snake EMP MSGL
Alligator EMP MSGL
Leopard EMP MSGL
Tiger EMP MSGL
Zebra EMP MSGL
Woodland EMP MSGL
Digital EMP MSGL
Desert EMP MSGL
Arctic EMP MSGL
Multi-cam EMP MSGL
Blue EMP MSGL
Melee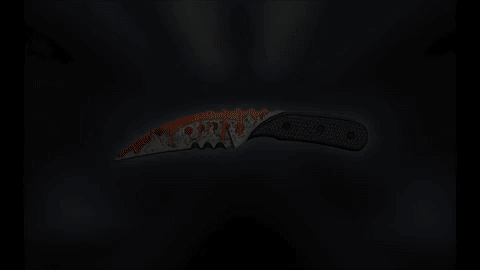 Blood Moon Karambit Knife
Blue Legend Karambit Knife
Blue Cherry Karambit Knife
Neon Luck Karambit Knife
Gentleman Karambit Knife
Forged Blaze Karambit Knife
Autumn Karambit Knife
Polygonal Karambit Knife
Universe Karambit Knife
Electric Karambit Knife
Attachments
Black Mamba Viper

City Clear Sight

Arctic Skins for all Sight Attachments
Shop Update
New in-game shop items (boxes and packages).
Reminder: For all boxes, only 1 item will be delivered randomly.
Leopard Limited Mystery Box (30 CHIPS):
Jack-O'-Lantern charm
Pixel MSBS 556B
Celebrations Ultimax 100
Celebrations PDR-C
Pixel DSR-1
Spring SVD
1 Cartoon Weapon Skin
1 Leopard Weapon Skin
In-game currency (5000 GP / 10000 GP / 20000 GP / 50 CHIPS / 30 CHIPS)
30% EXP booster (7 days)
30% GP Boost (7 days)
Special Weapon Box (500 --> 250 CHIPS):
1 purchase per account. Contains 1 weapon among ALL orange rarity skins.
Community Box (299AP):
Skull M4 ACC-M
Angry Monkey AR-57
Spring AK-12
1 community-created Karambit knife (Blood Moon / Blue Legend / Blue Cherry / Neon Luck / Gentleman / Forged Blaze / Autumn / Polygonal / Universe / Electric)
1 Zigzag weapon skin (among AK-47, PDR-C, DSR-1, MK46 and G36C)
1 Charm slot ticket
In-game currency (7500 GP / 50 CHIPS / 30 CHIPS)
Phantom's Box (299AP):
Phantom Sentinel Helmet
Jack-O'-Lantern charm
Pixel K2C
Angry Monkey FAMAS G2
Pixel P90 TR
Fire Monkey AK-12
Angry Monkey AR-57
Celebrations ACOG
Spring Holographic Scope
Snake AK-47
Blue Tar-21
Alligator HK417
Woodland MK46
Zigzag PKP
Cartoon Scar-H
Chrome M4 ACC-M
1 Charm slot ticket
In-game currency (7500 GP / 50 CHIPS / 30 CHIPS)
Reminder: For all packages, you will receive all the items it contains. 1 purchase per account.
Chrome Ultimax Package (4500 AP --> 2970 AP):
Chrome Ultimax 100
200 CHIPS
Special Chrome Ultimax Package (12000 AP --> 6000 AP):
Chrome Ultimax 100
City Clear Sight
Horse Ride emote
350 CHIPS
Improvements
Quick Navigation added from the items in the "view contents" list of a Supply Box or a Package to jump to your loadout
Loadout extensions have been added – You can now purchase up to 5 loadout and rename them to your convenience
A new shop feature with special direct sales is available
Weapon Balancing
MP9
Range decreased from 29 to 27
Rate of fire increased from 84 to 93
Recoil control reduced from 68 to 67
MP5 A5
Rate of fire increased from 78 to 87
Reload speed increased slightly
P90 TR
Rate of fire increased from 95 to 100
Vector
Rate of fire increased from 100 to 108
PP-2000
Damage multiplier for each body part adjusted
Bug Fixes
Fixed non-rotating propeller with the UAV Recon and UAV Jammer
Fixed some issues with the spectator mode
Fixed overlapping text in the FFA Scoreboard
Fixed not matching times between timer and objective on the Frontline Mode
Fixed an issue with drones not being properly assigned in the loadout
Fixed some truncation issues in the Collection System
Fixed an issue when reflections couldn't be deactivated
Fixed the completed achievements showing "Time Left oH0M"
Fixed an issue with the win and lose marks on the result screen
Fixed an issue where PSG-1 could equip the Thermal Scope
Fixed a display issue with the basic Quick Shot on the K2C
Fixed some Special rarity weapons appearing as 'Unavailable"
Charms now only are affected by horizontal movements and move overall less
Fixed some clan logos that were displayed incorrectly
Improved the interactable area over booster icons
Fixed some collider issues on Airport
Fixed the AK-12 blurry display in the Results Screen
Fixed some display issues on low quality settings
Kawaii Killer and All Night Party titles are now displayed properly for other users
Fixed an issue where SMGs had lower recoil control than supposed to while aiming
Fixed an issue where the recoil control of AR-57 was not acting as expected
Fixed an issue where there was no sound output when connecting a peripheric after running the game
Fixed an issue where chat was shared between lobby and match
Known Issues
The 4th and 5th Loadout is not shown in the Results screen
Cannot use emotes while UI is deactivated
After changing the language, the Loadout does not showcase the weapons temporarily
Halloween Emblem and Title are not displayed for other users when equipped
Jaws Rifle Scope is listed in the Loadout with a cost of 0 GOLD
EMP MSGL has an animation flaw when changing weapons
Best regards,

Your Ironsight team.