Dear Mercenaries,
Welcome to our fourth Community Highlights!
You'll find here all the content produced by you, the Ironsight Community!
In this edition, funny clips, great montages, and new highlights from the latest Cruise update! Did you make it this week? Find out right below!

Twitch Clips
RyanRed's most vicious nemesis isn't the one you think...
Here's an outstanding flank from ImTelin!
TheOnlyEhrenmann has got 2 bullets with your name on it!
In this Sniper Match, sparky1 survives this 1V4!
Matt distract his opponent until physics takes care of the rest!
LentoPlays goes on a killing spree in this TDM round!
ONLYPRED ends this round in an explosive fashion!
Mercenaries from far and wide line up to meet riahlynn28 in her Ivory tower!
In this unfortunate series of events, panic gets the best of asquad72!
Officialpep single handedly wins this round of Sniper Match!
In the new Cruise map, cubical_gamer can't even get a tan in peace
YouTube
Stain returns with a new entry in his Highlight of Highlights serie!
Roesfer compiled the funniest clips of his!
Need a worthy opponent in Sniper Match? Call Adam Juriček!
Check out Roofio's latest sniper compilation!
MiraTheKilla MTK is back with more Throwing weapon clips!
For reaching level 100, B4TB- BfourtyB has thrown an amazing celebration montage!
In this SnD round, Revist Xiong turns the tables with the newly added Bowie Knife!
L7 K has compiled his best AUG A3 clips in his latest music video!
And lastly this week, let's slow down with Electro Codes' MG3 video... in slow motion!
Screenshots & FanArts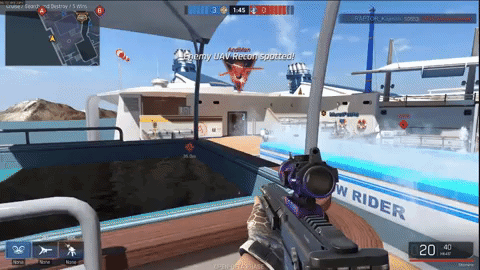 Annalisa pulls off this impressive stunt on Cruise!
Fanart by Farqad2K
Fanart by Farqad2K
Fanart by Captain Noodles
Fanart by Captain Noodles
Competitive
In case you missed it, Esports Hub has announced their first tournament in cooperation with Ironsight! With a Prize Pool of 2500$ of in-game items and currency, you and your team can try to become the best of the best. Read more about it and sign up here!
If you're more interested in Pick Up Games (PUGS), check out the Clash Network's latest monthly ladder!
You have a creation you want to share with us? Send it to us on our Twitter @IronsightEN with the dedicated hashtag:
#IronClip - For videos and clips.
#IronArt - For screenshots or Fanart creations.
or share it on our Discord in the right channel!
You might get featured in the next community highlights' volume!
This was it! Don't hesitate to provide us feedback on the forum. We are open to suggestions! Just drop us a line.

Until next time,
Your Ironsight Community Team